Category Archives: Projects at Work
---
---
The Mission Valley Ice Arena Association's second annual WinterFest is scheduled for Saturday, March 3, from 10 am to 2 pm at Polson's Riverside Park. It's free and you're invited to play ten-minute Broom-ball games on the park grounds. "Don't feel like a full-blown game of Broom-ball? No problem!" Says MVIAA Chair Hilary Lozar. She invites you to participate in easy hockey skill games overseen by local hockey enthusiasts, with equipment for all activities provided by the MVIAA through Greater Polson Community Foundation grants.
Local merchants have donated raffle prizes and ticket sales boost the non-profit MVIAA fund. Prizes include gift certificates for the Red Lion Hotel, MacKenzie River Pizza, and a scenic flight over the Mission Valley, thanks to Blue Goose Aviation. Hot chocolate will be available free of charge, and donations are appreciated.
MVIAA board members and volunteers will be wearing white hockey jerseys and will be available to answer any questions you have about the ice rink project.
"This event is primarily to increase awareness of our ice rink project, as well as spark an interest and love for winter sports, so please, invite anyone you can think of and share this event with your friends and family," Lozar added.
Parking is available along the street above the park, with easy access down the stairs. Overflow parking may be found along Third Avenue.
---
Need a Cure For Cabin Fever or a Break From Winter "Blahs"?
Attend the 6th annual Flathead Lake International Cinemafest, Friday, January 26 through Sunday, January 28 where you can:
• See 68 films from 15 countries: Australia, Canada, Croatia, France, India, Israel, Iran, Ireland, Italy, KOSOVO, Poland, Russian Federation, Tanzania, Turkey, and the USA
• Choose from the 2-hour screening blocks arranged by general type. $5 per 2-hour block or $40 for an all-access pass.
• See films that run the gamut from documentary, feature, animation, and narrative; many are set in Montana.
• Join other film-goers at informal get- togethers at Vine and Tap on Main Street in Polson at 4 p.m. Friday and Saturday at 5:30 p.m.
• Meet filmmakers from Poland, Canada, California, Oregon, Wisconsin, Washington, Montana
• Vote for your favorite films and attend the exciting awards ceremony 5 p.m. Sunday afternoon.
• Learn why the Greater Polson Community Foundation has been a proud sponsor of FlIC for six years!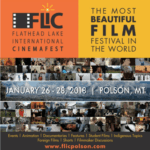 ---
Leadership Flathead Reservation is underway. We had a very successful Opening Retreat at Quinn's Hot Springs in September and have completed our first session on History and Government. We have a group of 25 men and women, all up and coming leaders in our community. Our next session is on November 17th and will be focusing on the Arts, Culture and Religion. We are thankful to the Greater Polson Community Foundations and it's donors for helping sponsor scholarships for our future leaders…
A Leadership Development Course for communities located on the Flathead Reservation
Keeping our communities healthy requires insightful leaders who have the ability to communicate and work effectively with others. To this end, many cities and rural counties around Montana provide a year-long leadership development program, ours is sponsored by Lake County Community Development Corporation. The programs are designed to facilitate development and growth of local leaders, provide opportunities to interact with other community members, and explore local relevant issues. The program spans nine months, starting with a retreat in September and eight sessions one day per month from October through May, from 8:00 am to 5 pm.
Mission: In partnership with our community, LFR, provides all participants with opportunities to acquire the knowledge, skills and experience to become involved community leaders.
If you are interested in joining our class beginning in the fall of 2018, watch for updates beginning in January 2018 on our website, https://www.lakecountycdc.org/Leadership_Flathead_Reservation and send in your application.
---
Polson Youth Soccer Challenge
GPCF loves sports and kids! In 2015 Polson Youth Soccer Association asked us if we would sponsor one of the four new fields for a donation of $25,000. We decided that investing in PYSA was a great idea, and named the field Community Field in honor of, and recognition of our amazing Polson community. In the fall of 2016 the GPCF Board learned that the PYSA was struggling to finish their beautiful new soccer complex. They needed to raise $84,000 to finish the work on their concession stand which had been partially funded by a grant from Rotary, complete the fencing, and grade the parking lot. We decided to offer them a challenge. If PYSA could raise $56,000 by August 4, 2017, our annual Passion for Polson dinner celebration, we would give them $28,000 to complete this phase of the soccer complex.
We are excited to report that the day of our event they were able to reach their goal of $56,000! PYSA has kids of all ages playing soccer on those four fields. They have hosted tournaments bringing teams from all over the state of Montana to play here which translates to an economic impact to the community bonus as spectators follow their teams. These spectators purchase food, gas, and lodging and love the beautiful views from the fields. The Polson Boys Soccer team has earned a spot in the state finals and we are thrilled to cheer them on!
Enthusiasm for the sport is growing in our community and it's a wonderful, healthy way to keep our kids active.
---
From jumping and fishing at the dock, to jumping in the freezing water at the Polar Plunge, to watching fireworks on the Fourth of July, Riverside Park has been a place I have gone my whole life to have fun and I want to give back." These are the words of Cameron Decker who is the Department Head of Fine Arts at SKC and is finishing his Masters' Degree in Art through the University of Montana.
With the help of the Greater Polson Community Foundation, gifts from Suzanne Booker, the Cowan Trust and the Jarecki Foundation, Matt Holmes, PHS art teacher/licensed tile contractor, PHS students, Boys and Girls Club students and Upward Bound students, this dream is becoming a reality.
The project is a tri-panel (triptych) tile mosaic composition that will be installed on the west side of the Riverside restrooms. Each panel is 30 square feet (6' X 5') for a total of 90 square feet of mosaic tile. There are at least 120-6"X6" tiles for the border alone and an undetermined amount of tiles ranging from less than 1"X1" and up. Colors range from greens to blues to whites, reds, purples and yellows.
The far left panel will be a rendition of a rising sun, the middle panel will represent mid-day and the right panel will be the evening with fireworks, all occurring on Flathead Lake. A prominent figure of a Kootenai woman will appear in the middle panel, referencing a photograph taken by Edward Curtis in his visit to the lake. Upon close inspection, one will find various shaped tiles that have been created by our community.
The panels are the focal point to a concrete pad and benches the City of Polson is installing which will be dedicated to the memory of Officer William Cleveland who died of cancer on November 15, 2015. His badge will be replicated and embedded in the mural, thus connecting the two projects.
Please join Cameron, et al., in the unveiling of this beautiful addition to the Polson landscape on Sunday, September 24th at 1:00 p.m. at Riverside Park in Polson.
---
The Mission Valley Ice Arena Association (MVIAA) is pleased to announce that they were awarded a Greater Polson Community Foundation grant toward its annual "WinterFest" event toward the construction of a seasonal ice rink.
"We are so grateful for the Foundation's ongoing support and enthusiasm for our progress," said Hilary Lozar, MVIAA chairperson. "They support our goals of providing healthy wintertime activity, and our commitment to boosting Polson's economic activity during our slowest time of year," she added.
The popularity of ice sports is increasing, and the nearest available rinks are Missoula, Kalispell or Whitefish. MVIAA envisions an indoor rink at the Ridgewater Complex adequate for hockey, tournaments, open skating and curling. Developer Mike Maddy has pledged the property once construction funds are assured.
February's WinterFest is an opportunity for the public to experience a variety of winter sports. The event is free and attracts all ages of participants, raising awareness of the benefits of winter sports and the need for a local facility with safe, reliable ice.
Participants of all ages choose from a variety of activities, like practicing their hockey shot. Broom ball is "entry level" hockey and has been the most popular. "The kids played all day, and my son Carson really loved it," said local businessman David McDaniel. MVIAA provides all equipment at no charge. Apparel and concessions are available, and local merchants have been generous donating raffle prizes. "We look forward to next February, with plans to improve the event," Lozar said.
Mission Valley Ice Arena Association was formed to construct a seasonal ice rink in Polson and obtained charitable 501(c) 3 status in 2013. All donations are tax-deductible. Mailing address is P.O. Box 333, Polson, MT 59860.
---
GPCF Awards 2017 Grants to Local Non-Profits
POLSON — Because of the generosity of Greater Polson Community Foundation (GPCF) donors, a total of $468,600 has been awarded to worthy needs and projects in our community from 2009 through mid 2017.
The Greater Polson Community Foundation recently distributed $26,100.00 among sixteen local non-profit organizations as part of its 2017 grant cycle. The amount distributed represents the annual earnings from the GPCF's permanent endowment fund. Gifts and contributions from donors have added significantly to the permanent endowment, which now totals over $500,000. Only the earnings can be used from the permanent endowment. The more this fund grows, the more earnings are available for GPCF's annual grants.
The 2017 award recipients are: Flathead Lake Biological Station, North Lake County Public Library, Sunburst Community Service Foundation, Flathead Lake International Cinemafest (FLIC), Ninepipes Museum, Polson Flathead Historical Museum, Lake County Fairgrounds- Lights Under the Big Sky, Helping Hands, Polson Fairgrounds, Inc., Boys & Girls Club, Mission Valley Ice Arena, Lake County Community Development Corp, P.E.A.C.E., Mission Valley Live, Polson School District Gifted & Talented Program and Miracle of America Museum.
The grants support a wide variety of youth and community-oriented projects including: Leadership Development programs, Winterfest Activities, Outdoor Summer programs, Baby Box Project, Preservation and showcasing of historical data and artifacts, a beautiful film festival as well as a series of musical showcases.
You can find out more information about the Greater Polson Community Foundation by visiting our website at www.greaterpolsoncommunityfoundation.org or contact us at (406) 883-4723 to ask us about directed gifts, donor advised funds, legacy gifts and memorial donations.
"Being able to support our community non-profits and their projects is definitely the highlight of our year. GPCF is able to fund these grants because our donors truly love making a difference," GPCF president, Toni Young said.
---
---
Polson's Fifth Annual FLIC Film Festival
The Flathead Lake International Cinemafest (or FLIC for short) is unspooling its fifth annual winter film festival during the weekend of January 20-22, 2017 at the Showboat Cinema on Main Street in Polson, Montana.
FLIC has been recognized as one of the top 15 Winter Film Festivals in the United States by the Audience Awards. David W. King, FLIC Co-Chair and producer said, "We're excited to bring a diverse slate of 61 independent films to Polson and the Mission Valley for the fifth year in a row. Each year brings with it new cinematic treasures."
FLIC 2017 will be screening full-length features, shorts, animated films, and documentaries. True to its name, FLIC is once again offering a broad selection of international films from countries that include Australia, Canada, Spain, Taiwan, Croatia, France, and the USA. In addition, there are 14 films produced in Montana, which is more than in any previous year.
FLIC kicks off on Friday, January 20th with an informal gathering from 4 to 7 p.m. at the Lake Bar on Highway 93 in downtown Polson. Film showings on two screens begin at 7 p.m. On Saturday, January 21st, there will be a break in film showings from 5:30 p.m. to 7 p.m. for a second informal gathering at the Vine & Tap on Main Street. Complimentary hors d'oeuvres will be served each evening.
As in years past, the FLIC judges have enjoyed unearthing FLIC 2017's gems. This year's standout films include North of Known, a stunning feature documentary in which professional paragliders and adventurers Gavin McClurg and Dave Turner attempt a full, unsupported traverse of the Alaska Range by foot and paraglider. Another rich documentary, The Walk, produced by Polson's Jim Ereaux, profiles the Coast to Coast walk across Northern England with images and poetry. Narrative stories are also bountiful this year, including Life Now, Life Then, another Montana feature in which an introvert recounts the summer of '94, when he and his brother plotted revenge against their abusive father. The weekend is packed with a broad array of short films, too.
Saturday morning begins at 8:30 a.m. with a FLIC's popular free family movie screening. This year's film is Home, featuring an alien on the run from his own people who makes friends with a girl and tries to help her on her quest.  Attendees are encouraged to arrive in their pajamas and enjoy a free breakfast sponsored by Polson's Rotary Club, which also prepares the breakfast. This non-ticketed screening is free so seating is on a first-come, first-served basis.
As with previous years, many of FLIC's screenings will include question and answer sessions with filmmakers. Stay tuned for more details as FLIC's grand weekend in January gets closer!
The festival closes on Sunday, January 22nd with a "Best Of" awards show, which will be held at Showboat Cinema. Approximately 20 awards will be handed out in various categories.
All films, times and events are subject to change. Additional information on the festival is being updated online at www.flicpolson.com and/or Facebook or email info@flicpolson.com.
Categories

Archives