Category Archives: Events
---
---
Greater Polson Community Foundation Announces New Grant Funding Cycle:
The GPCF invites 2017 grant applications.  The 2017 grant application deadline is April 28, 2017.  Grant applications will be accepted from non-profit organizations with a 501c(3) status in the Greater Polson area.
Grants from the Greater Polson Community Foundation can make a significant difference.  A total of $414,755.00 has been contributed to meet needs in our community since grants were first awarded in 2009.  Grants are funded annually by the earning's from the foundation's growing permanent endowment and other available GPCF funds. Past grant awards have supported a variety of youth and community projects. GPCF President Toni Young says "our grant funding support to our community non-profits and their projects is a highlight of our year".
The Committee is looking for how well the prospective project matches the mission and values of the GPCF as well as addressing critical needs that strengthen our community.  As you prepare your application, think about how your project can enhance and improve the lives of the people who live here.
The GPCF is planning a Grant Application Workshop at the North County Library in Polson on March 23rd from 12:00 p.m. to 1:30 p.m. This workshop, which is not mandatory, will walk an applicant through the process and is beneficial to non-profits writing grants or foundation requests for funding.
GPCF will accept applications for pre-screen completeness until April 14th 2017 and complete applications must be postmarked no later than Friday, April 28th.  The complete 2017 Grant Application is available to download online at www.greaterpolsoncommunityfoundation.org  where you will also find a list of previous GPCF grant recipients.  If you have questions, please contact the GPCF office at (406) 883-4723
---
Polson's Fifth Annual FLIC Film Festival
The Flathead Lake International Cinemafest (or FLIC for short) is unspooling its fifth annual winter film festival during the weekend of January 20-22, 2017 at the Showboat Cinema on Main Street in Polson, Montana.
FLIC has been recognized as one of the top 15 Winter Film Festivals in the United States by the Audience Awards. David W. King, FLIC Co-Chair and producer said, "We're excited to bring a diverse slate of 61 independent films to Polson and the Mission Valley for the fifth year in a row. Each year brings with it new cinematic treasures."
FLIC 2017 will be screening full-length features, shorts, animated films, and documentaries. True to its name, FLIC is once again offering a broad selection of international films from countries that include Australia, Canada, Spain, Taiwan, Croatia, France, and the USA. In addition, there are 14 films produced in Montana, which is more than in any previous year.
FLIC kicks off on Friday, January 20th with an informal gathering from 4 to 7 p.m. at the Lake Bar on Highway 93 in downtown Polson. Film showings on two screens begin at 7 p.m. On Saturday, January 21st, there will be a break in film showings from 5:30 p.m. to 7 p.m. for a second informal gathering at the Vine & Tap on Main Street. Complimentary hors d'oeuvres will be served each evening.
As in years past, the FLIC judges have enjoyed unearthing FLIC 2017's gems. This year's standout films include North of Known, a stunning feature documentary in which professional paragliders and adventurers Gavin McClurg and Dave Turner attempt a full, unsupported traverse of the Alaska Range by foot and paraglider. Another rich documentary, The Walk, produced by Polson's Jim Ereaux, profiles the Coast to Coast walk across Northern England with images and poetry. Narrative stories are also bountiful this year, including Life Now, Life Then, another Montana feature in which an introvert recounts the summer of '94, when he and his brother plotted revenge against their abusive father. The weekend is packed with a broad array of short films, too.
Saturday morning begins at 8:30 a.m. with a FLIC's popular free family movie screening. This year's film is Home, featuring an alien on the run from his own people who makes friends with a girl and tries to help her on her quest.  Attendees are encouraged to arrive in their pajamas and enjoy a free breakfast sponsored by Polson's Rotary Club, which also prepares the breakfast. This non-ticketed screening is free so seating is on a first-come, first-served basis.
As with previous years, many of FLIC's screenings will include question and answer sessions with filmmakers. Stay tuned for more details as FLIC's grand weekend in January gets closer!
The festival closes on Sunday, January 22nd with a "Best Of" awards show, which will be held at Showboat Cinema. Approximately 20 awards will be handed out in various categories.
All films, times and events are subject to change. Additional information on the festival is being updated online at www.flicpolson.com and/or Facebook or email info@flicpolson.com.
---
Celebrate the Season of Light – 2016
The Envision Polson Beautification Committee invites you to nominate what "best" embodies to joy of the season through the our "Celebrate the Season of Light" decoration contest. Nominate yourself, a neighbor or your favorite spot in one of the following categories
**Best Business **Best Residence  **Best Church  **Best All one Color **Best Multiple Colors
Contest boundaries include Polson City limits along Hwy 35 to Fulkerson Corner and Along Rocky Point Road to Kings point turn off.
Drop off your nominations to Polson Chamber of Commerce by Friday 16th. Please download Nomination form attachment below. If you have questions contact Mary Jensen at 406.849.5288
---
Annual Fund-Raiser Sets New Record
The eighth annual "Passion for Polson Celebration" held Friday, August 5 at the home of Tim and Kelly Bagnell, generated $26,759, a new record for the Greater Polson Community Foundation.
The event also broke previous attendance records as 198 donors made reservations for the festive dinner-dance.  A live band, The Grateful Dads, traveled from the Sacramento area at their own expense and rolled back the clock by playing danceable rock and roll music.  Their lead singer, whose voice was amazingly similar to that of "The King," Elvis Presley, delighted the crowd when he sang those familiar songs.
There was lively bidding for both the live and silent auction items which together generated $12,270, which also set a new record.
The 2017 "Passion for Polson Celebration" will be held Friday, August 4.
---
The Greater Polson Community Foundation recently distributed $18,501 among nine local non-profit organizations as part of its 2016 grant cycle.  The amount distributed represents the annual earnings from the GPCF's permanent endowment fund.  The award recipients are:  Crown of the Continent Guitar Scholarship, Flathead Lake International Cinemafest (FLIC), Friends of Lake County Fairgrounds, Lake County Parks Board, Mission Valley Aquatics, Mission Valley Ice Arena, Onward and Upward, North Lake County Public Library, and Polson Middle School.
The grants support a wide variety of youth and community-oriented projects including: amenities and exercise stations for trail users on Polson's walking trails, a LEGO project and building table, scholarships for local guitar students, support for communication and literacy skills for Polson Middle School students, materials for STEM projects (science-technology-engineering-math) in Polson's elementary schools, support for the FLIC film festival, a portable multi-use stage for 4-H and other youth activities, equipment for a new winter festival organized by the Mission Valley Ice Rink and Boys' and Girls' Club member swim lessons at the Mission Valley Aquatics Center.
"Being able to support our community non-profits and their projects is definitely the highlight of our year.  GPCF is able to fund these grants because our donors truly love making a difference," said GPCF Board President Penny Jarecki.
Gifts and contributions from donors have added significantly to the permanent endowment, which now totals over $600,000.  Only the earnings can be used from the permanent endowment.  The more this fund grows, the more earnings are available for GPCF's annual grants.
---
The 8th annual "Passion for Polson Celebration" will be held Friday, Aug. 5 on the park-like grounds surrounding the home of Drs. Tim and Kelly Bagnell on Rocky Point Road. Their beautiful home has an unobstructed view of the lake, the Swan Range, and on a clear day, the peaks of Glacier Park.
A special treat, and one in keeping with this year's party theme, "Denim & Diamonds," will be the opportunity to see examples of the popular performance quarter horses the Bagnells raise. Seeing mares with their foals will be sweet.
Recipients of the 2016 GPCF grants will be announced, and a delicious dinner will be catered by Caffe Firenze. There also will be a short list of interesting items for a live auction. The festive evening will be rounded out with music provided by the band, the Grateful Dads. The four members of this band, special friends of Polson, are traveling from the Sacramento area at their own expense to make our evening together especially fun. So wear your dancing shoes!
All "Passion for Polson Celebration" parties have been graciously hosted at the homes of donors who believe in the mission and possibilities of the Greater Polson Community Foundation. These events have been a big part of the GPCF's foundation and growth. Since 2009, when grants were first awarded, donors have made it possible for GPCF to give over $420,000 to meet needs in our community.
---
Denver Holt has been around the world, more than a few times, and knows a thing or two about beautiful locations and natural attractions. He's the director of the Owl Institute in Charlo and one of the world's foremost experts on owls.
Holt was the guest of honor at this year's Annual Passion For Polson Celebration, and he wasted no time sharing with his audience that the Mission Valley is unique, and it has a lot to draw one particular crowd: birders.
Holt's talk brought the theme of the party, Go Wild for Polson, into sharp focus. He encouraged community members, and the leaders in attendance, to look into nature-based, sustainable tourism opportunities to contribute to a more vibrant year-round local economy.
Violinist Geoffrey Castle dazzled guests with lively melodies as the evening sun set on the lakefront home of Darrell and Sandi Cain. The event saw a record number of guests in attendance and raised $21,562.12 for the foundation.
"A great many people told me afterward that this event was the best one we have ever had," said GPCF Penny Jarecki, praising the location, food, decor and presentation.
A live auction, which rounded out the evening with some animated bidding, earned $8,700, and was highlighted by the sale of two "Day With Denver" packages, each bringing in $2,800.
---
The 2015 Passion for Polson Celebration will be emphasizing a unique bragging point about life in our community. Featured guest Denver Holt of the Owl Institute in Charlo will be sharing stories that explain why we should all "Go Wild for Polson," this year's party theme.
A wonderful four-course dinner preceded by hors d'oeuvres will be catered by Caffe Firenze of Florence, Mont. The party will be held at the Darrell and Sandi Cain residence, 34870 Rocky Point Road, Polson, on Friday, Aug. 7, 2015.
---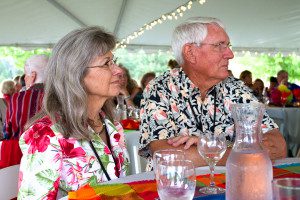 Familiar friends as well as new faces gathered at the Greater Polson Community Foundation's Sixth Annual Passion for Polson Celebration: Viva Polson!, on Saturday, Aug. 16.
Guests were treated to beautiful gardens and a sunset Mission Mountain backdrop at the home of Gary and Christine Pitts. The ambiance was warm with colorful decorations by Charlo's Connie Plaissay, delicate guitar music by Whitefish's Tim Torgerson, and a flavorful spread of Latin cuisine catered by Vista Linda, of Somers. Bigfork distillery, Whistling Andy, prepared a signature drink, Hibiscus Margaritas, especially for the event.
With its sixth year in the books, the foundation and its supporters certainly have plenty to celebrate and even more to look toward in the upcoming year. The foundation has grown its assets including permanent endowment funds, donor advised funds, scholarship funds, temporarily restricted funds, special project funds and working capital.
Thanks to two dedicated gifts, the foundation now has its own furnished office space, located on the lower level of the Salish building downtown.
Recently, a sizeable directed gift allowed the remodel of a small garden just east of Ducharme Park as a memorial to a dear friend of the donor. When the landscaping work was finished, another donor was inspired to cover the cost of the concrete curbing that replaced the battered railroad ties along the streets edging the garden. The work, done by two local businesses, did wonders to brighten up this very visible section of U.S. Hwy. 93 through town.
Perhaps a highlight of the evening was the unveiling of the foundation's 2014 grant recipients. Altogether, $21,584 will be distributed among 10 qualifying local non-profits this year.
The Dayton Proctor Park Association will receive $797 to insulate a park building for energy-efficient winter use.
Polson Youth Soccer Association was granted $2,500 to help construct new soccer fields on newly acquired land.
Mission Valley Aquatics will receive $2,500 to allow the children of financially challenged families to use the facilities.
Polson Ski Club was granted $2,287.50, which will be used to give financial assistance to youth not otherwise able to participate in the ski program.
Boys and Girls Club was granted $2,500 for a healthy eating/nutrition program for youth using local produce.
Polson School District received $2,500 for upgrades to the high school auditorium, the only auditorium in Polson, which has not been improved for 40 years.
Polson Loaves and Fishes was granted $2,000 for the purchase of a metal storage container.
SAFE Harbor received a grant of $1,500 for video devices to help law enforcement officers provide evidence of domestic violence.
Polson Fairgrounds was granted $2,500 to improve the concession stand, the commercial kitchen and storage facilities.
The Flathead Lake International Cinemafest (FLIC) will receive $2,500 to support the third annual event that sparks our winter economy.
"You generous donors have allowed the foundation to give a total of $97,000 to our community since we first awarded grants in 2009," said Penny Jarecki, GPCF Board President. "That's $97,000 in six years. That's commendable."
The evening closed with a live auction of eight desirable items donated by individuals and businesses from the community.
Jarecki thanked the Polson High School student athletes who spent the evening tirelessly directing parking, serving dinner and clearing tables.
"You represent the bright and energetic kids we have in our community," she said. "We hope you will remember what this event is all about. It's about the importance of giving something back to your community. That's why all of us are here. We know the satisfaction that comes from working for a worthy cause, and we hope you will continue to be involved in your community wherever it may be."
Categories

Archives