GREATER POLSON
Community Foundation
Because You Love Making a Difference
Join us in activities and the creation of a permanent endowment fund to support the needs of the greater Polson community.
Our Mission
The directors of the Greater Polson Community Foundation will:
Promote philanthropy
Financially support initiatives that build our community
Collaborate and partner with others
Inspire community pride and unity
For the past six years interest and encouragement has been growing among community leaders, parents, students, and the Montana swimming community to start a high school swim team in Polson. Now the Polson School District, in a five-year agreement, has committed...
read more
"Hooping it up for Health" Greater Polson Community Foundation grants funds to Lake County Youth Scholarship Program. Our Community and valley struggle with the ability to stay active and fight and control heart disease and diabetes. The Lake County Youth Scholarship...
dollars contributed to meet needs in our community since grants were first awarded in 2009. YOUR gifts have made a difference, we make it easier for YOU!
In 1995, Polson's original skatepark was constructed on the corner of 7th Avenue East and 7th Street. At that time, the skatepark consisted of a concrete slab with ramps and rails made by locals, whose parents would help in the construction of new wooden ramps etc....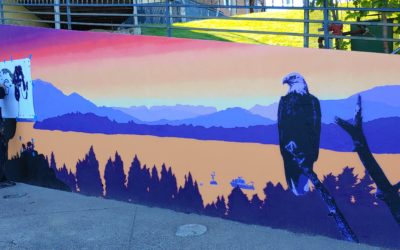 FLATHEAD LAKERS INSTALL MURAL FOR THE FLATHEAD WATERSHED COMMUNITY As a gift to the Flathead Lake community, the Flathead Lakers will be installing a wall art mural outside the Salish Building in Polson (on the lakeshore between Riverside and Sacajawea Parks) where...
The 1st Place Business Winner:HaeOk Newman, Owner of Oaks Korean Kitchen1st Place residence winner - Lynn Opalka & her dog Jill News from the Polson Beautification Committee - Polson in Bloom judges, Mary Jensen, JaneLarson and Lois Abell toured nominated gardens...
to support the needs of the greater polson community
Greater Polson Community Foundation
PO Box 314 Polson, Montana 59860
P: (406) 883-4723 | E: gpcf4723@gmail.com
Our office is located on the lower level of the Salish Building at 110 Main Street, Polson, MT