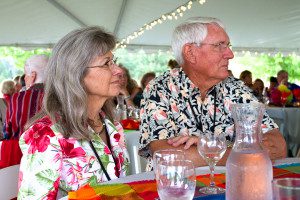 Familiar friends as well as new faces gathered at the Greater Polson Community Foundation's Sixth Annual Passion for Polson Celebration: Viva Polson!, on Saturday, Aug. 16.
Guests were treated to beautiful gardens and a sunset Mission Mountain backdrop at the home of Gary and Christine Pitts. The ambiance was warm with colorful decorations by Charlo's Connie Plaissay, delicate guitar music by Whitefish's Tim Torgerson, and a flavorful spread of Latin cuisine catered by Vista Linda, of Somers. Bigfork distillery, Whistling Andy, prepared a signature drink, Hibiscus Margaritas, especially for the event.
With its sixth year in the books, the foundation and its supporters certainly have plenty to celebrate and even more to look toward in the upcoming year. The foundation has grown its assets including permanent endowment funds, donor advised funds, scholarship funds, temporarily restricted funds, special project funds and working capital.
Thanks to two dedicated gifts, the foundation now has its own furnished office space, located on the lower level of the Salish building downtown.
Recently, a sizeable directed gift allowed the remodel of a small garden just east of Ducharme Park as a memorial to a dear friend of the donor. When the landscaping work was finished, another donor was inspired to cover the cost of the concrete curbing that replaced the battered railroad ties along the streets edging the garden. The work, done by two local businesses, did wonders to brighten up this very visible section of U.S. Hwy. 93 through town.
Perhaps a highlight of the evening was the unveiling of the foundation's 2014 grant recipients. Altogether, $21,584 will be distributed among 10 qualifying local non-profits this year.
The Dayton Proctor Park Association will receive $797 to insulate a park building for energy-efficient winter use.
Polson Youth Soccer Association was granted $2,500 to help construct new soccer fields on newly acquired land.
Mission Valley Aquatics will receive $2,500 to allow the children of financially challenged families to use the facilities.
Polson Ski Club was granted $2,287.50, which will be used to give financial assistance to youth not otherwise able to participate in the ski program.
Boys and Girls Club was granted $2,500 for a healthy eating/nutrition program for youth using local produce.
Polson School District received $2,500 for upgrades to the high school auditorium, the only auditorium in Polson, which has not been improved for 40 years.
Polson Loaves and Fishes was granted $2,000 for the purchase of a metal storage container.
SAFE Harbor received a grant of $1,500 for video devices to help law enforcement officers provide evidence of domestic violence.
Polson Fairgrounds was granted $2,500 to improve the concession stand, the commercial kitchen and storage facilities.
The Flathead Lake International Cinemafest (FLIC) will receive $2,500 to support the third annual event that sparks our winter economy.
"You generous donors have allowed the foundation to give a total of $97,000 to our community since we first awarded grants in 2009," said Penny Jarecki, GPCF Board President. "That's $97,000 in six years. That's commendable."
The evening closed with a live auction of eight desirable items donated by individuals and businesses from the community.
Jarecki thanked the Polson High School student athletes who spent the evening tirelessly directing parking, serving dinner and clearing tables.
"You represent the bright and energetic kids we have in our community," she said. "We hope you will remember what this event is all about. It's about the importance of giving something back to your community. That's why all of us are here. We know the satisfaction that comes from working for a worthy cause, and we hope you will continue to be involved in your community wherever it may be."