Updates:
---
---
---
---
A Decade in Making a Difference
After learning how community foundations were benefiting other Montana towns, a group of Polson volunteers launched the Greater Polson Community Foundation (GPCF) in December, 2007, with the advice and guidance of the Montana Community Foundation. GPCF was carefully organized before receiving the first donations to the permanent endowment fund in October, 2008, and has been thriving ever since.  
The GPCF permanent endowment has grown from nothing to $678,600… 
Earnings from the permanent endowment plus grants GPCF has received, directed gifts, and donor advised funds have provided $509,624.00 in support of special projects undertaken by local non-profit organizations' projects in five areas: education, health and fitness, sports, culture, and the arts. 
GPCF has provided legacy planning workshops to inform and encourage the community at large about the benefits of careful estate planning and encourages everyone to give back to our beloved community. 
The Montana Community Foundation regards GPCF as one of the top five community foundations in the state because of its solid organization, its growth, and service to the community all accomplished by a volunteer board of directors and a part-time staff.
---
100% of Polson 2nd Graders Learn to Swim
104 second graders have been taught the basics of water safety and swimming in a series of eight lessons at the Mission Valley Aquatics Center this spring. Polson 2nd grade Classroom schedules were adjusted for a two-week period, children were transported to the pool on school buses, and teachers helped with supervision. The director at MVA, says the majority of the kids would now be able to save themselves if they accidently fell in the water. Next spring the same kids will receive another series of eight lessons as 3rd graders and the incoming 2nd graders will start the next two-year project. The Greater Polson Community Foundation made a challenge match of $45,500 to fund the project from 2018 through 2021. Mission Valley Aquatics will raise a growing share of the program funds as it builds community support for the lessons. For more information about the project, to make a donation or find out what Mission Valley Aquatics has to offer, please visit website at:  www.mvaquatics.org  or call (406) 883-4567
---
Kathy grew up in northern Minnesota and attended the University of Minnesota-Duluth where she earned a Bachelor of Accounting Degree. Kathy held several private sector accounting positions before finding her niche in government accounting and finance while working for the City of Great Falls in the early 1990s. After relocating to Colorado with her military husband's transfer, Kathy worked for the City of Woodland Park for 18 months and then most recently the City of Fountain, Colorado for 16 years as the Chief Financial Officer. She served on many committees and also served 6 years as a Trustee on one of the state sponsored pension plans. Seeking a life filled with outdoor activities and a peaceful environment, Kathy and her husband Joe retired to the beautiful Flathead Valley in 2013.
---
---
The Mission Valley Ice Arena Association's second annual WinterFest is scheduled for Saturday, March 3, from 10 am to 2 pm at Polson's Riverside Park. It's free and you're invited to play ten-minute Broom-ball games on the park grounds. "Don't feel like a full-blown game of Broom-ball? No problem!" Says MVIAA Chair Hilary Lozar. She invites you to participate in easy hockey skill games overseen by local hockey enthusiasts, with equipment for all activities provided by the MVIAA through Greater Polson Community Foundation grants.
Local merchants have donated raffle prizes and ticket sales boost the non-profit MVIAA fund. Prizes include gift certificates for the Red Lion Hotel, MacKenzie River Pizza, and a scenic flight over the Mission Valley, thanks to Blue Goose Aviation. Hot chocolate will be available free of charge, and donations are appreciated.
MVIAA board members and volunteers will be wearing white hockey jerseys and will be available to answer any questions you have about the ice rink project.
"This event is primarily to increase awareness of our ice rink project, as well as spark an interest and love for winter sports, so please, invite anyone you can think of and share this event with your friends and family," Lozar added.
Parking is available along the street above the park, with easy access down the stairs. Overflow parking may be found along Third Avenue.
---
Greater Polson Community Foundation Announces New Grant Funding Cycle:
The GPCF invites 2018 grant applications. The 2018 grant application deadline is Friday, April 27, 2018. Grant applications will be accepted from non-profit organizations with a 501c(3) status in the Greater Polson area.
Grants from the Greater Polson Community Foundation can make a significant difference. A total of $473,000.00 has been contributed to meet needs in our community since grants were first awarded in 2009. Grants are funded annually by the earning's from the foundation's growing permanent endowment and other available GPCF funds. Past grant awards have supported a variety of youth and community projects. GPCF President Toni Young says "our grant funding support to our community non-profits and their projects is a highlight of our year".
The Committee is looking for how well the prospective project matches the mission and values of the GPCF as well as addressing critical needs that strengthen our community. As you prepare your application, think about how your project can enhance and improve the lives of the people who live here.
The GPCF is planning two Grant Application Workshops at the GPCF offices – Lower Level of Salish Building – 110 Main Street, Polson, MT  59860 on March 8th (FILLED) or March 15th from 12:00 p.m. to 1:30 p.m. Either of these workshop sessions, are available for the first twelve participants to register and pay $5.00 (light lunch included) and will walk an applicant through the basic grant application process which is beneficial to non-profits writing grants or foundation requests for funding.
GPCF will accept applications for pre-screen completeness until April 13th 2018 and complete applications must be postmarked no later than Friday, April 27th 2018. The complete 2018 Grant Application is available to download online at www.greaterpolsoncommunityfoundation.org where you will also find a list of previous GPCF grant recipients. If you have questions or would like to register, please contact Jennifer at the GPCF office at (406) 883-4723.
---
Need a Cure For Cabin Fever or a Break From Winter "Blahs"?
Attend the 6th annual Flathead Lake International Cinemafest, Friday, January 26 through Sunday, January 28 where you can:
• See 68 films from 15 countries: Australia, Canada, Croatia, France, India, Israel, Iran, Ireland, Italy, KOSOVO, Poland, Russian Federation, Tanzania, Turkey, and the USA
• Choose from the 2-hour screening blocks arranged by general type. $5 per 2-hour block or $40 for an all-access pass.
• See films that run the gamut from documentary, feature, animation, and narrative; many are set in Montana.
• Join other film-goers at informal get- togethers at Vine and Tap on Main Street in Polson at 4 p.m. Friday and Saturday at 5:30 p.m.
• Meet filmmakers from Poland, Canada, California, Oregon, Wisconsin, Washington, Montana
• Vote for your favorite films and attend the exciting awards ceremony 5 p.m. Sunday afternoon.
• Learn why the Greater Polson Community Foundation has been a proud sponsor of FlIC for six years!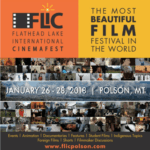 Categories

Archives