Tag Archives: Polson
A Decade in Making a Difference
After learning how community foundations were benefiting other Montana towns, a group of Polson volunteers launched the Greater Polson Community Foundation (GPCF) in December, 2007, with the advice and guidance of the Montana Community Foundation. GPCF was carefully organized before receiving the first donations to the permanent endowment fund in October, 2008, and has been thriving ever since.  
The GPCF permanent endowment has grown from nothing to $678,600… 
Earnings from the permanent endowment plus grants GPCF has received, directed gifts, and donor advised funds have provided $509,624.00 in support of special projects undertaken by local non-profit organizations' projects in five areas: education, health and fitness, sports, culture, and the arts. 
GPCF has provided legacy planning workshops to inform and encourage the community at large about the benefits of careful estate planning and encourages everyone to give back to our beloved community. 
The Montana Community Foundation regards GPCF as one of the top five community foundations in the state because of its solid organization, its growth, and service to the community all accomplished by a volunteer board of directors and a part-time staff.
100% of Polson 2nd Graders Learn to Swim
104 second graders have been taught the basics of water safety and swimming in a series of eight lessons at the Mission Valley Aquatics Center this spring. Polson 2nd grade Classroom schedules were adjusted for a two-week period, children were transported to the pool on school buses, and teachers helped with supervision. The director at MVA, says the majority of the kids would now be able to save themselves if they accidently fell in the water. Next spring the same kids will receive another series of eight lessons as 3rd graders and the incoming 2nd graders will start the next two-year project. The Greater Polson Community Foundation made a challenge match of $45,500 to fund the project from 2018 through 2021. Mission Valley Aquatics will raise a growing share of the program funds as it builds community support for the lessons. For more information about the project, to make a donation or find out what Mission Valley Aquatics has to offer, please visit website at:  www.mvaquatics.org  or call (406) 883-4567
The Mission Valley Ice Arena Association's second annual WinterFest is scheduled for Saturday, March 3, from 10 am to 2 pm at Polson's Riverside Park. It's free and you're invited to play ten-minute Broom-ball games on the park grounds. "Don't feel like a full-blown game of Broom-ball? No problem!" Says MVIAA Chair Hilary Lozar. She invites you to participate in easy hockey skill games overseen by local hockey enthusiasts, with equipment for all activities provided by the MVIAA through Greater Polson Community Foundation grants.
Local merchants have donated raffle prizes and ticket sales boost the non-profit MVIAA fund. Prizes include gift certificates for the Red Lion Hotel, MacKenzie River Pizza, and a scenic flight over the Mission Valley, thanks to Blue Goose Aviation. Hot chocolate will be available free of charge, and donations are appreciated.
MVIAA board members and volunteers will be wearing white hockey jerseys and will be available to answer any questions you have about the ice rink project.
"This event is primarily to increase awareness of our ice rink project, as well as spark an interest and love for winter sports, so please, invite anyone you can think of and share this event with your friends and family," Lozar added.
Parking is available along the street above the park, with easy access down the stairs. Overflow parking may be found along Third Avenue.
Greater Polson Community Foundation Announces New Grant Funding Cycle:
The GPCF invites 2018 grant applications. The 2018 grant application deadline is Friday, April 27, 2018. Grant applications will be accepted from non-profit organizations with a 501c(3) status in the Greater Polson area.
Grants from the Greater Polson Community Foundation can make a significant difference. A total of $473,000.00 has been contributed to meet needs in our community since grants were first awarded in 2009. Grants are funded annually by the earning's from the foundation's growing permanent endowment and other available GPCF funds. Past grant awards have supported a variety of youth and community projects. GPCF President Toni Young says "our grant funding support to our community non-profits and their projects is a highlight of our year".
The Committee is looking for how well the prospective project matches the mission and values of the GPCF as well as addressing critical needs that strengthen our community. As you prepare your application, think about how your project can enhance and improve the lives of the people who live here.
The GPCF is planning two Grant Application Workshops at the GPCF offices – Lower Level of Salish Building – 110 Main Street, Polson, MT  59860 on March 8th (FILLED) or March 15th from 12:00 p.m. to 1:30 p.m. Either of these workshop sessions, are available for the first twelve participants to register and pay $5.00 (light lunch included) and will walk an applicant through the basic grant application process which is beneficial to non-profits writing grants or foundation requests for funding.
GPCF will accept applications for pre-screen completeness until April 13th 2018 and complete applications must be postmarked no later than Friday, April 27th 2018. The complete 2018 Grant Application is available to download online at www.greaterpolsoncommunityfoundation.org where you will also find a list of previous GPCF grant recipients. If you have questions or would like to register, please contact Jennifer at the GPCF office at (406) 883-4723.
Need a Cure For Cabin Fever or a Break From Winter "Blahs"?
Attend the 6th annual Flathead Lake International Cinemafest, Friday, January 26 through Sunday, January 28 where you can:
• See 68 films from 15 countries: Australia, Canada, Croatia, France, India, Israel, Iran, Ireland, Italy, KOSOVO, Poland, Russian Federation, Tanzania, Turkey, and the USA
• Choose from the 2-hour screening blocks arranged by general type. $5 per 2-hour block or $40 for an all-access pass.
• See films that run the gamut from documentary, feature, animation, and narrative; many are set in Montana.
• Join other film-goers at informal get- togethers at Vine and Tap on Main Street in Polson at 4 p.m. Friday and Saturday at 5:30 p.m.
• Meet filmmakers from Poland, Canada, California, Oregon, Wisconsin, Washington, Montana
• Vote for your favorite films and attend the exciting awards ceremony 5 p.m. Sunday afternoon.
• Learn why the Greater Polson Community Foundation has been a proud sponsor of FlIC for six years!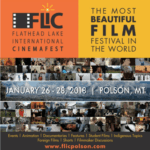 Wednesday, January 10, 2018  – Missoulian
POLSON — Ten years ago, Penny Jarecki happened upon a newspaper article about the good work a community foundation was accomplishing in Bigfork.
It made her wonder why the same kind of thing wasn't happening in Polson.
So, after some research and an encouraging visit with folks from the Montana Community Foundation, Jarecki began reaching out to men and women who cared deeply about Polson to see if there was an interest in creating a new organization focused on improving the lives of people who called it home.
In 2007, a half-dozen or so began the necessary paperwork to establish a new nonprofit they would call the Greater Polson Community Foundation.
It didn't take long to learn that Polson area residents were willing to step forward financially to help make this dream a reality.
At the time, the Montana Community Foundation provided seed money to new community foundations that were able to raise $10,000 as a match. In 2008 — the same year the stock market tanked — the fledgling Polson organization held its first fundraiser and began to spread the word through local civic organizations.
"Even though it was a scary time with the stock market, we were able to raise about $50,000," Jarecki said. "That was the evidence that we needed to show, how the community would respond right from the very beginning."
Fast forward a decade and the Greater Polson Community Foundation is now considered one of the top five community foundations of the 74 established in the state. Its permanent endowment currently stands at $650,000.
Since 2009, the Polson foundation has awarded $473,000 in grants for community projects that range from $53,000 to help with the development of soccer fields to a $15,000 grant for informational signs along the interpretive trail at Sacajawea Park.
The foundation also was instrumental in helping to jump-start the effort to establish an international film festival in Polson six years ago.
"At its beginning, the motivation was to do something in the winter time that would help support Polson's economy," Jarecki said. "The film festival started absolutely from scratch. It's now recognized as one of the best winter film festivals in the country."
David King, the Flathead Lake International Cinemafest's co-chair, said the $15,000 the foundation has provided over the past six years has played an important role in the festival's success.
"Film festivals don't just pop up without an enormous amount of support from the local community," King said. "The Greater Polson Community Foundation and other generous local sponsors … have been the bedrock beneath FLIC from the very beginning some six years ago. FLIC is now its own nonprofit. Its sixth annual film festival will be held Jan 29 through Feb. 1. This year it will feature 68 films from 15 countries.
"We're proud that we not only were able to encourage them in the beginning, but also have been there along the way as they have evolved into something that's good for our community," Jarecki said.
The Polson foundation has one fundraiser in August. Last summer, the foundation raised about $30,000 at the event. Funding also comes from a variety of grants as well as memorial and legacy gifts. Jarecki said it's too early to know for sure how changes in federal tax law will affect nonprofits like the foundation.The new tax law increases the standard deduction, which could mean that many taxpayers won't be itemizing their deductions, including charitable donations to nonprofit organizations. "People may not be as incentivized under the new tax law," Jarecki said. "The old way encouraged charitable giving. That could create some new challenges for nonprofits in the future".
The foundation's public relations chair, Dorothy Ashcraft, decided to offer her help after retiring from a teaching career.
"This is really a way for me to give back to my community," Ashcraft said. "We do live in a wonderful little area that's filled with people who want to do the same. The members of our board of directors come from all walks of life."
Jarecki is encouraged by the progress the foundation has made in its first decade.
"There have been dozens of organizations in our community that have been positively impacted by the generosity of the people who live here," Jarecki said. "Nonprofits allow individuals to accomplish something they couldn't do by themselves or do for a profit.
"We have all kinds of organizations in our town working to do good things, but we also have a lot of needs," she said. "We have a lot of good things going on in this town and I like to say the foundation has its finger on many of them."
Polson Youth Soccer Challenge
GPCF loves sports and kids! In 2015 Polson Youth Soccer Association asked us if we would sponsor one of the four new fields for a donation of $25,000. We decided that investing in PYSA was a great idea, and named the field Community Field in honor of, and recognition of our amazing Polson community. In the fall of 2016 the GPCF Board learned that the PYSA was struggling to finish their beautiful new soccer complex. They needed to raise $84,000 to finish the work on their concession stand which had been partially funded by a grant from Rotary, complete the fencing, and grade the parking lot. We decided to offer them a challenge. If PYSA could raise $56,000 by August 4, 2017, our annual Passion for Polson dinner celebration, we would give them $28,000 to complete this phase of the soccer complex.
We are excited to report that the day of our event they were able to reach their goal of $56,000! PYSA has kids of all ages playing soccer on those four fields. They have hosted tournaments bringing teams from all over the state of Montana to play here which translates to an economic impact to the community bonus as spectators follow their teams. These spectators purchase food, gas, and lodging and love the beautiful views from the fields. The Polson Boys Soccer team has earned a spot in the state finals and we are thrilled to cheer them on!
Enthusiasm for the sport is growing in our community and it's a wonderful, healthy way to keep our kids active.
Issue Date: 9/27/2017
Last Updated: 9/27/2017 8:17:47 AM | By Caleb M. Soptelean
News from the Valley Journal
A tile mosaic project that involved more than 100 students was presented to the public on Sunday.
The mural was a graduate-level University of Montana project for Cameron Decker, chair of the fine arts department at Salish Kootenai College.
Polson High School art teacher Matt Holmes, a licensed tile contractor who has completed numerous tile projects, involved his high school students and others in the nine-month-long project.
Decker said Holmes taught him how to cut tile, and Holmes said that in addition to his art students, the Boys and Girls Club and Upward Bound youth were involved, along with his two daughters, the latter which made tile turtles.
Holmes added his signature Charlie Russell bison skull to the top of the three-piece mural, which represents morning, afternoon and evening.
"We started with just words … thinking about Riverside Park, Polson and Montana," Holmes said of his students' brainstorming. "The board was full of hundreds of words."
Decker said he just wanted to give back to the community with his project. "From jumping and fishing at the dock, to jumping in the freezing water at the Polar Plunge, to watching fireworks on the Fourth of July, Riverside Park has been a place I have gone my whole life to have fun," he said.
Decker said the project taught him about teamwork and how to depend on other people to do their parts.
Holmes said it took three days for him and a number of helpers to put the final product on the back outside wall of restrooms at Riverside Park facing the South Fork of the Flathead River.
To see the project finished was amazing, said Kyara Fraga, a PHS junior who worked on some 20 pieces of the mural during her sophomore year.
"Just to see it finished and know we helped with it is a good feeling," said Haley Doss, another PHS junior.
"It's just been jaw dropping … to see the original plans to where it is today," said Toni Young, president of the Greater Polson Community Foundation, which donated $3,000 to the effort. Suzanne Booker, the Cowan Trust and the Jarecki Foundation combined to donate another $3,000, Young said.
The mural consists of three 30-square-foot panels depicting Flathead Lake and various animals with a Kootenai woman included in the center panel.
Cleveland honored
The project also honored the late William Cleveland, a former Polson Police officer who died from cancer in November 2015 at age 50.
Cleveland's widow Toni and her sons David, 23, and Nick, 15, helped place the final tile into the mural during a ceremony on Sunday afternoon. The tile is a replica of Cleveland's badge.
"I think it's beautiful," Toni Cleveland said afterward.
"It's amazing," David said. "It's awesome that two years later everyone is still coming together thinking about my dad."
Polson's Arts and Recreation Director Pat Nowlen said the city plans to add several benches to the concrete platform in front of the mural, including one with a plaque dedicated to Cleveland. A shade structure and improved lighting will also be added next year, he said.
GPCF Awards 2017 Grants to Local Non-Profits
POLSON — Because of the generosity of Greater Polson Community Foundation (GPCF) donors, a total of $468,600 has been awarded to worthy needs and projects in our community from 2009 through mid 2017.
The Greater Polson Community Foundation recently distributed $26,100.00 among sixteen local non-profit organizations as part of its 2017 grant cycle. The amount distributed represents the annual earnings from the GPCF's permanent endowment fund. Gifts and contributions from donors have added significantly to the permanent endowment, which now totals over $500,000. Only the earnings can be used from the permanent endowment. The more this fund grows, the more earnings are available for GPCF's annual grants.
The 2017 award recipients are: Flathead Lake Biological Station, North Lake County Public Library, Sunburst Community Service Foundation, Flathead Lake International Cinemafest (FLIC), Ninepipes Museum, Polson Flathead Historical Museum, Lake County Fairgrounds- Lights Under the Big Sky, Helping Hands, Polson Fairgrounds, Inc., Boys & Girls Club, Mission Valley Ice Arena, Lake County Community Development Corp, P.E.A.C.E., Mission Valley Live, Polson School District Gifted & Talented Program and Miracle of America Museum.
The grants support a wide variety of youth and community-oriented projects including: Leadership Development programs, Winterfest Activities, Outdoor Summer programs, Baby Box Project, Preservation and showcasing of historical data and artifacts, a beautiful film festival as well as a series of musical showcases.
You can find out more information about the Greater Polson Community Foundation by visiting our website at www.greaterpolsoncommunityfoundation.org or contact us at (406) 883-4723 to ask us about directed gifts, donor advised funds, legacy gifts and memorial donations.
"Being able to support our community non-profits and their projects is definitely the highlight of our year. GPCF is able to fund these grants because our donors truly love making a difference," GPCF president, Toni Young said.
Categories

Archives