Lights Under the Big Sky
Greater Polson Community Foundation Helps Light Up the Big Sky
Led by Friends of the Fairgrounds, Lights Under the Big Sky was an event held December 1st through December 17th, on the Lake County Fairgrounds. It was a collaboration of community members from Arlee, St. Ignatius, Charlo, Ronan, and Polson, along with nonprofits, youth groups, community organizations and Chambers of Commerce. With hundreds of volunteer hours and financial support from Greater Polson Community Foundation, the Lake County Fairgrounds was turned in to a winter wonderland for all to enjoy. This project was all about creativity, bringing people together, showcasing a new way to bring people together. Lights created a winter stage for artisans promoting art and culture. The artisan market created a venue in the off-season for artists and craftsmen and non-profit groups to showcase their talents and generate income. Lights provided a reason to visit the Mission Valley during the winter season.
Each night 25 volunteers participated in hosting the grounds for the over three thousand community members from across Western Montana attending the event. Thousands of lights and cheerful displays helped set the stage a very special Christmas-season event. Healthy Children's activities and family building experiences were an important focus of the Lights event. Santa was available to listen to wish lists every night. The Ronan City Library hosted crafts for children, serving 1265 children from Missoula to Kalispell. Children's games were hosted by Reason to Live Native and the Boys and Girls Club and the Pablo Baptist Church. Boys and Girls Club also hosted Santa's Workshop where a child could select a free gift and wrap it (assisted by BGC volunteers) to gift to a family member. Each weekend entertainment consisted of local musicians, children's choirs and bands, karaoke, dart tournaments, live nativity, and fire pits to gather around.
Greater Polson Community Foundation played a vital role with the funding to help purchase lights with a generous contribution of two thousand dollars. The lights were used to light the grounds and will be used for years to come. WE could not have achieved our goals without their support.                         
Flathead Lake International Cinemafest (FLiC)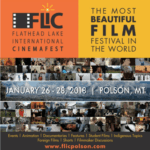 Polson Youth Soccer Challenge
GPCF loves sports and kids! In 2015 Polson Youth Soccer Association asked us if we would sponsor one of the four new fields for a donation of $25,000. We decided that investing in PYSA was a great idea, and named the field Community Field in honor of, and recognition of our amazing Polson community. In the fall of 2016 the GPCF Board learned that the PYSA was struggling to finish their beautiful new soccer complex. They needed to raise $84,000 to finish the work on their concession stand which had been partially funded by a grant from Rotary, complete the fencing, and grade the parking lot. We decided to offer them a challenge. If PYSA could raise $56,000 by August 4, 2017, our annual Passion for Polson dinner celebration, we would give them $28,000 to complete this phase of the soccer complex.
We are excited to report that the day of our event they were able to reach their goal of $56,000! PYSA has kids of all ages playing soccer on those four fields. They have hosted tournaments bringing teams from all over the state of Montana to play here which translates to an economic impact to the community bonus as spectators follow their teams. These spectators purchase food, gas, and lodging and love the beautiful views from the fields. The Polson Boys Soccer team has earned a spot in the state finals and we are thrilled to cheer them on!
Enthusiasm for the sport is growing in our community and it's a wonderful, healthy way to keep our kids active.
In the first granting cycle, the Greater Polson Community Foundation received grant applications from 14 local non-profit organizations. GPCF was pleased to allocate $11,000 among the following nine qualifying organizations whose special projects share the goal of "Making Polson the Gem of Flathead Lake."
Health and Fitness
MISSION VALLEY AQUATICS – 
ST. JOSEPH MEDICAL CENTER received funds to help remodel third floor space used for the weekly oncology clinic. This will make the space more accessible and comfortable for cancer patients and their families who come there for examinations and chemotherapy.
The Arts
SANDPIPER GALLERY was granted funding for the renovation of an adjacent room to expand the gallery and provide space for art-oriented workshops for children and adults.
MISSION VALLEY FRIENDS OF THE ARTS was granted funding to help with the renovation of landscaping around the John Dowdall Theater.
Culture
POLSON FLATHEAD HISTORICAL MUSEUM received funding to cover the cost of organizing an educational series in summer, 2010 to commemorate the 100 year anniversary of the opening of the Flathead Reservation to homesteading. The commemoration will include storytelling, educational programs, special events, exhibits, and tours.
MIRACLE OF AMERICA MUSEUM
NINEPIPES MUSEUM