Category Archives: Events
---
Friday, January 18th @ Polson High School – 7 p.m.
---
The GPCF is proud to be a Light Sponsor for the Lights Under the Big Sky Event that opens up on Friday December 7th and runs through Saturday, December 22nd. Create a memorable holiday weekend at Lights Under the Big Sky Event click links below to their website & schedule. Happy Holidays to you & your family from Greater Polson Community Foundation.
---
---
A Decade in Making a Difference
After learning how community foundations were benefiting other Montana towns, a group of Polson volunteers launched the Greater Polson Community Foundation (GPCF) in December, 2007, with the advice and guidance of the Montana Community Foundation. GPCF was carefully organized before receiving the first donations to the permanent endowment fund in October, 2008, and has been thriving ever since.  
The GPCF permanent endowment has grown from nothing to $678,600… 
Earnings from the permanent endowment plus grants GPCF has received, directed gifts, and donor advised funds have provided $509,624.00 in support of special projects undertaken by local non-profit organizations' projects in five areas: education, health and fitness, sports, culture, and the arts. 
GPCF has provided legacy planning workshops to inform and encourage the community at large about the benefits of careful estate planning and encourages everyone to give back to our beloved community. 
The Montana Community Foundation regards GPCF as one of the top five community foundations in the state because of its solid organization, its growth, and service to the community all accomplished by a volunteer board of directors and a part-time staff.
---
The Mission Valley Ice Arena Association's second annual WinterFest is scheduled for Saturday, March 3, from 10 am to 2 pm at Polson's Riverside Park. It's free and you're invited to play ten-minute Broom-ball games on the park grounds. "Don't feel like a full-blown game of Broom-ball? No problem!" Says MVIAA Chair Hilary Lozar. She invites you to participate in easy hockey skill games overseen by local hockey enthusiasts, with equipment for all activities provided by the MVIAA through Greater Polson Community Foundation grants.
Local merchants have donated raffle prizes and ticket sales boost the non-profit MVIAA fund. Prizes include gift certificates for the Red Lion Hotel, MacKenzie River Pizza, and a scenic flight over the Mission Valley, thanks to Blue Goose Aviation. Hot chocolate will be available free of charge, and donations are appreciated.
MVIAA board members and volunteers will be wearing white hockey jerseys and will be available to answer any questions you have about the ice rink project.
"This event is primarily to increase awareness of our ice rink project, as well as spark an interest and love for winter sports, so please, invite anyone you can think of and share this event with your friends and family," Lozar added.
Parking is available along the street above the park, with easy access down the stairs. Overflow parking may be found along Third Avenue.
---
Need a Cure For Cabin Fever or a Break From Winter "Blahs"?
Attend the 6th annual Flathead Lake International Cinemafest, Friday, January 26 through Sunday, January 28 where you can:
• See 68 films from 15 countries: Australia, Canada, Croatia, France, India, Israel, Iran, Ireland, Italy, KOSOVO, Poland, Russian Federation, Tanzania, Turkey, and the USA
• Choose from the 2-hour screening blocks arranged by general type. $5 per 2-hour block or $40 for an all-access pass.
• See films that run the gamut from documentary, feature, animation, and narrative; many are set in Montana.
• Join other film-goers at informal get- togethers at Vine and Tap on Main Street in Polson at 4 p.m. Friday and Saturday at 5:30 p.m.
• Meet filmmakers from Poland, Canada, California, Oregon, Wisconsin, Washington, Montana
• Vote for your favorite films and attend the exciting awards ceremony 5 p.m. Sunday afternoon.
• Learn why the Greater Polson Community Foundation has been a proud sponsor of FlIC for six years!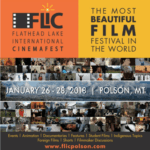 ---
Polson Youth Soccer Challenge
GPCF loves sports and kids! In 2015 Polson Youth Soccer Association asked us if we would sponsor one of the four new fields for a donation of $25,000. We decided that investing in PYSA was a great idea, and named the field Community Field in honor of, and recognition of our amazing Polson community. In the fall of 2016 the GPCF Board learned that the PYSA was struggling to finish their beautiful new soccer complex. They needed to raise $84,000 to finish the work on their concession stand which had been partially funded by a grant from Rotary, complete the fencing, and grade the parking lot. We decided to offer them a challenge. If PYSA could raise $56,000 by August 4, 2017, our annual Passion for Polson dinner celebration, we would give them $28,000 to complete this phase of the soccer complex.
We are excited to report that the day of our event they were able to reach their goal of $56,000! PYSA has kids of all ages playing soccer on those four fields. They have hosted tournaments bringing teams from all over the state of Montana to play here which translates to an economic impact to the community bonus as spectators follow their teams. These spectators purchase food, gas, and lodging and love the beautiful views from the fields. The Polson Boys Soccer team has earned a spot in the state finals and we are thrilled to cheer them on!
Enthusiasm for the sport is growing in our community and it's a wonderful, healthy way to keep our kids active.
---
From jumping and fishing at the dock, to jumping in the freezing water at the Polar Plunge, to watching fireworks on the Fourth of July, Riverside Park has been a place I have gone my whole life to have fun and I want to give back." These are the words of Cameron Decker who is the Department Head of Fine Arts at SKC and is finishing his Masters' Degree in Art through the University of Montana.
With the help of the Greater Polson Community Foundation, gifts from Suzanne Booker, the Cowan Trust and the Jarecki Foundation, Matt Holmes, PHS art teacher/licensed tile contractor, PHS students, Boys and Girls Club students and Upward Bound students, this dream is becoming a reality.
The project is a tri-panel (triptych) tile mosaic composition that will be installed on the west side of the Riverside restrooms. Each panel is 30 square feet (6' X 5') for a total of 90 square feet of mosaic tile. There are at least 120-6"X6" tiles for the border alone and an undetermined amount of tiles ranging from less than 1"X1" and up. Colors range from greens to blues to whites, reds, purples and yellows.
The far left panel will be a rendition of a rising sun, the middle panel will represent mid-day and the right panel will be the evening with fireworks, all occurring on Flathead Lake. A prominent figure of a Kootenai woman will appear in the middle panel, referencing a photograph taken by Edward Curtis in his visit to the lake. Upon close inspection, one will find various shaped tiles that have been created by our community.
The panels are the focal point to a concrete pad and benches the City of Polson is installing which will be dedicated to the memory of Officer William Cleveland who died of cancer on November 15, 2015. His badge will be replicated and embedded in the mural, thus connecting the two projects.
Please join Cameron, et al., in the unveiling of this beautiful addition to the Polson landscape on Sunday, September 24th at 1:00 p.m. at Riverside Park in Polson.
---
The GPCF Board of Directors is looking forward to seeing our friends at the Annual Passion for Polson Fundraiser
DINNER & DANCE & AUCTION – Friday, August 4, 2017  5:30 – 9:30 p.m.
@ Polson Youth Soccer Complex – 311 Ridgewater Drive, Polson, MT
---
GPCF Awards 2017 Grants to Local Non-Profits
POLSON — Because of the generosity of Greater Polson Community Foundation (GPCF) donors, a total of $468,600 has been awarded to worthy needs and projects in our community from 2009 through mid 2017.
The Greater Polson Community Foundation recently distributed $26,100.00 among sixteen local non-profit organizations as part of its 2017 grant cycle. The amount distributed represents the annual earnings from the GPCF's permanent endowment fund. Gifts and contributions from donors have added significantly to the permanent endowment, which now totals over $500,000. Only the earnings can be used from the permanent endowment. The more this fund grows, the more earnings are available for GPCF's annual grants.
The 2017 award recipients are: Flathead Lake Biological Station, North Lake County Public Library, Sunburst Community Service Foundation, Flathead Lake International Cinemafest (FLIC), Ninepipes Museum, Polson Flathead Historical Museum, Lake County Fairgrounds- Lights Under the Big Sky, Helping Hands, Polson Fairgrounds, Inc., Boys & Girls Club, Mission Valley Ice Arena, Lake County Community Development Corp, P.E.A.C.E., Mission Valley Live, Polson School District Gifted & Talented Program and Miracle of America Museum.
The grants support a wide variety of youth and community-oriented projects including: Leadership Development programs, Winterfest Activities, Outdoor Summer programs, Baby Box Project, Preservation and showcasing of historical data and artifacts, a beautiful film festival as well as a series of musical showcases.
You can find out more information about the Greater Polson Community Foundation by visiting our website at www.greaterpolsoncommunityfoundation.org or contact us at (406) 883-4723 to ask us about directed gifts, donor advised funds, legacy gifts and memorial donations.
"Being able to support our community non-profits and their projects is definitely the highlight of our year. GPCF is able to fund these grants because our donors truly love making a difference," GPCF president, Toni Young said.
Categories

Archives